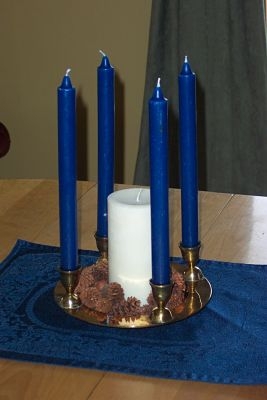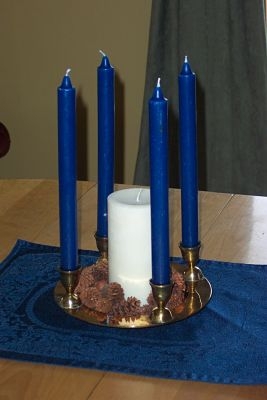 Advent Wreath Table Centrepiece
 The Advent wreath, consisting of a white Christ candle and four blue candles, has been used as a way of marking the four Sundays in Advent for at least a few hundred years, if not longer.  The practice made its way to North America from Europe in the mid 1900s.
  The set up of the Advent wreath varies as does the symbolic meaning of each of the elements.  Ours consists of a white Christ candle surrounded by four blue candles.  The base, which is brass, I found at a Ten Thousand Villages store but many other Advent wreaths have wooden or grapevine bases.  The circle of the base has come to symbolize God, who is Alpha and Omega, the beginning and the end, as in a circle (Alpha is the first letter in the Greek alphabet while Omega is the last letter).  Many Advent wreaths use various kinds of evergreen (cedar, pine, holly) to symbolize the continuous life we find in Christ.  Here the pine cones, as seeds, point to life waiting to bloom.  Each of the blue candles is for a Sunday in Advent.  There are many different themes used for each candle.  I have, for the last four years, written a candle lighting liturgy for the Advent wreath based on the four texts for each Sunday as outlined in the Revised Common Lectionary.  This can be found for this year in the Advent section of the website.
  It is important to remember that the Advent wreath does not have to be elaborate.  Even a playdough ring using birthday candles set in a circle will do!  What is important is that it catches the family's eye so that the change in time, from the Season After Pentecost to Advent, is noted.  Most important of course is that all of what we do points to Christ and draws us into the story of waiting and longing and celebration that is Advent, Christmas and Epiphany.