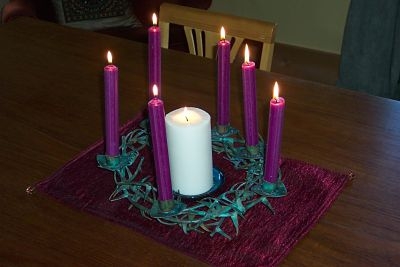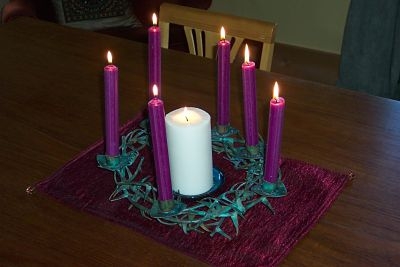 NOTE:  The colour for Palm Sunday is red as we begin Holy Week, our highest holy
            time.  We mark this change by placing a red placemat underneath the
            Lenten table centerpiece.
Light the Christ candle and the five purple candles.
Light the sixth purple candle.
Question:  Why do we light this candle?
Response:    We light this candle to honour Jesus, the one who comes in the
                      name of the Lord.
Read:    Luke 19: 28-40
Reflect:   Jesus comes to Jerusalem, the seat of power in Israel, in peace, riding 
               on a donkey.  What kind of peace is Jesus offering?
Pray:     Blessed are You, our servant King, who comes in the name of the
              Lord!  May we lay down our very lives in Your Way of peace.   Amen.
Sing:   Sing together a praise song for Palm Sunday, such as
           All Glory, Laud and Honour.