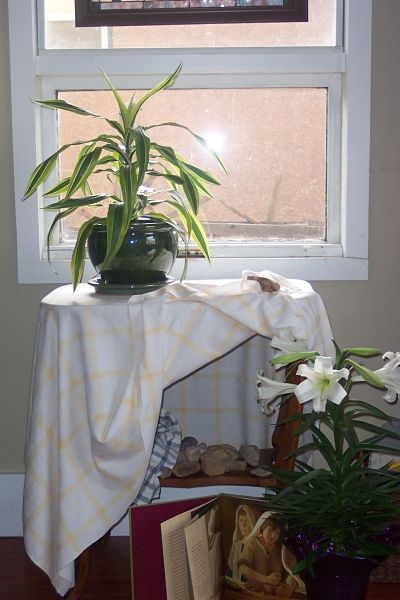 The day to celebrate
the resurrection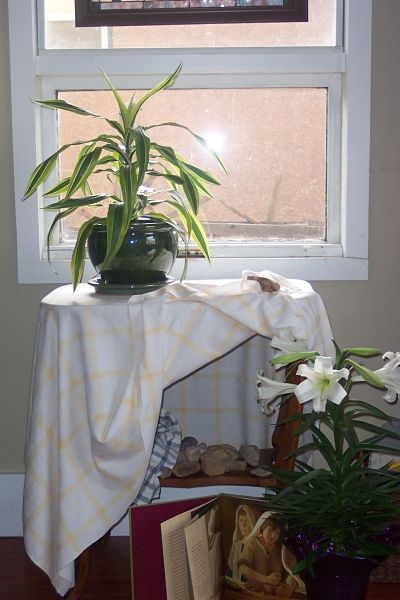 of Jesus
is our highest holy day.
We celebrate this day
in a number of ways
in our home. The
table that has been
Golgotha and then the
tomb on Good Friday
and Holy Saturday
has been transformed.
It is covered with 
a white and gold
cloth which is
pulled aside to
reveal only the 
rocks and cloth
bands that were
used to cover Jesus.  An
Easter lily has also been
placed next to the table.
In the dining room, our best white table cloth covers the table, a resurrected
Jesus figure stands next to the new Christ candle and the table is set with
our best dishes.  On each plate is a chocolate lamb.  We light the new Christ
candle (see candle lighting), read the story from the gospel of John (20: 1-18)
pray and sing a joyous hymn.  Then we feast on a wonderful breakfast,
usually waffles with strawberries and sparkling apple juice, before getting ready 
for worship.  Often there is the gift of new clothes set out, at least for our
son (this harks back to the white robe that new Christians were given after
their baptism at worship on Easter).
We highly recommend gathering with fellow Christians, preferably the whole
congregation or at least as many as can gather, for a champagne lunch 
together after worship.  As our North American culture becomes increasingly
secular (those who hold to no religion) and pluralistic (a number of religions 
existing along side one another) the feast day of Jesus' resurrection will 
become less of a family celebration and more of a church family celebration.