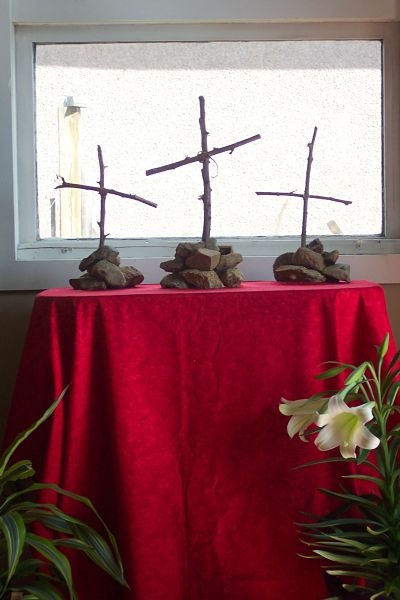 Good Friday is often not a worship service
with the church that is inclusive of children.
By stating this I am not referring to the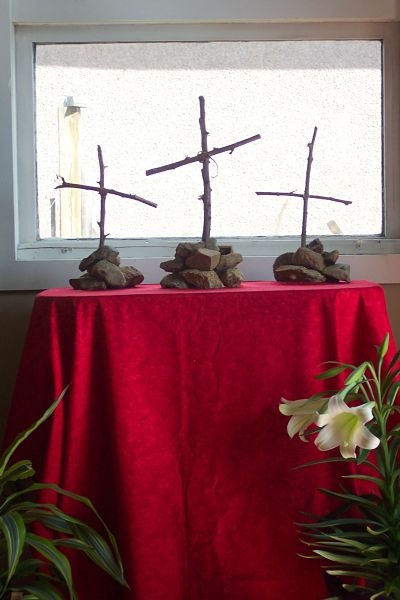 subject matter of the worship service
but rather to the way the service is
performed – lots of words and little
movement.
We have tended to mark this day at
home with our son the last few years.
The table we use in our living room
for Golgotha is covered with a red
cloth and the crosses we have made
from the branches of trees in our
yard are propped up with rocks
that we also gather from our yard.
We gather here at three in the
afternoon (the time Jesus died as
recorded in the gospels of 
Matthew, Mark and Luke).
The Jesus figure we have walked to
our living room Jerusalem throughout
Lent (and who arrived on Palm Sunday), is moved the the Golgotha table
and stands next the the centre cross.  Then we read the story (this year from
either John 18:28 – 19:42 or Luke 22:63 -23:56) together.
Next, our Jesus figure is wrapped in cloth bands (cheesecloth works well) and 
we place him in the "tomb" we make on the shelf below the crosses, using the
rocks that have held up the crosses.  The entire table is then covered with a
black cloth and remains this way until Sunday morning.